Each qualified "shidoin" (instructor) or "fukushidoin" (assistant instructor) at Aikido Resolution Foundation (ARF) brings a unique
and experienced background to our practice.
The instructors are certified by the Aikido Association of America (AAA), and are recertified each year by attending the AAA National Instructors Seminar.
TIM SPIES, 5th Dan Sensei
Chief Instructor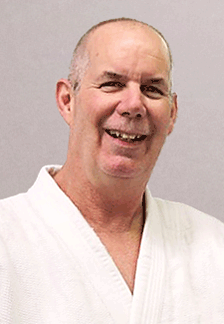 Tim Spies began studying Karate at the age of 16. In 1975, he helped found the University of Wisconsin-Madison Japanese Karate Club, which is still in existence today and is the largest sport club on campus. In the early 1980's Spies Sensei began studying Aikido at the College of Lake County in Grayslake, Il. There he met Mr. Glen Matsuda, Rokudan (6th degree), Shihandai, who has been his instructor ever since. Spies Sensei served as an assistant to Toyoda Shihan, founder of the Aikido Association of America, at Ryoshinkan Aikido Dojo shortly before his passing in 2001. In 2005, he became the Dojo-Cho of Ryoshinkan Dojo and in 2010 opened Ishinkan Aikido Dojo in Libertyville, Illinois. In 2009, Mr. Spies founded The Aikido Resolutions Foundation, a 501(c)(3) charitable organization that teaches conflict resolution through the study of Aikido. In 2010, he started teaching Cut The Cancer™ to cancer patients and their care givers throughout the Chicago area. In 2012, the program expanded to monthly classes at several Gilda's Clubs throughout the United States. Mr. Spies holds a Shodan (1st degree) in Karate and a Godan (5th degree) in Aikido.
JOSHUA WEISER, 4th Dan Shidoin
Instructor
Joshua Weiser Sensei joined Ryoshinkan Dojo in 2007 and possesses an extensive knowledge in the practice of Aikido. He is the Midwest Regional Event Coordinator for the Aikido Association of America (AAA). Weiser Sensei is ranked Yondan (4th degree black belt) and participates as an AAA Chicagoland Testing Committee Member.